Latest News • 2020-02-06
PKF hotelexperts at ALIS 2020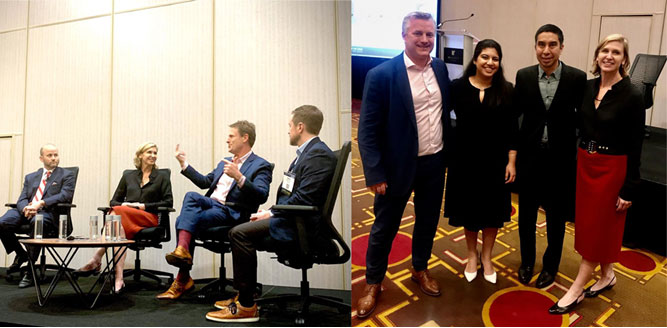 Channing Henry, Managing Director – USA, PKF hotelexperts, spoke on the panel: Development Track: Strategy in an Ever Shifting Landscape at ALIS on 28 January 2020 at the JW Marriott in Los Angeles. Panellists Don Hansen, CEO, Regents Capital Group: Brad LeBlanc, Chief Development Officer, BW Hotels and Resorts; Richard Rozycki, SVP, Z Modular; and the moderator Raj Chandani, Chief Development Officer, WATG, had a lively discussion covering the latest trends and headwinds to impact the global development landscape from glamping to Modular Construction to creative financing for FF&E.
Baron Ah Moo, Managing Director – USA, PKF hotelexperts, wrapped up a great ALIS conference by moderating the panel: Money Morning: Private Equity over US $50MM at ALIS on 29 January 2020 at the JW Marriott in Los Angeles. Panelists Nolan Hecht, Senior Managing Director of Square Mile Capital, Jeffrey Reinstein, Principal of Geolo Capital, Steen Petri, SVP Investments of HEI Hotels and Resorts, and Kevin Colket, Founding Partner of GHIG, delivered their insights on everything from the industry impact of the coronavirus to opinions on branded residences. Of particular interest was a discussion on whether an economic downturn will occur before or after 2022.
Adam Maclennan, Managing Director - UK & Ireland, and Aalia Udawala, Consultant – from PKF hotelexperts offices in London and New York - were also in attendance. The overall feeling at ALIS was one of pragmatism; the long cycle will continue and deals are happening with no shortage of capital in the market, but hoteliers should brace for impact and be aware of challenges ahead including flat RevPAR growth, a shortage of labor supply, and increasing costs impacting profitability. Alternative accommodation was a hot topic and everything from glamping to new disruptors like Sonder and Domio were given ample.
See more Latest News items