Latest News • 2019-09-12
Meet hospitality and tourism industry professionals at the HTLsummit europe and the Hospitality Gipfel Wien 2019 in Vienna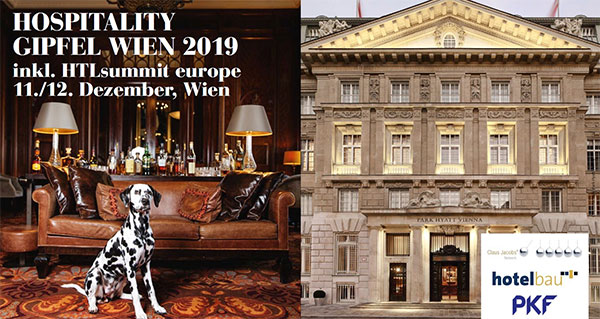 On 11 and 12 December 2019 hotel owners, operators, investors, developers, designers, architects, lawyers, bankers and advisors will gather in Vienna for the HTLsummit europe and the Hospitality Gipfel Wien 2019.
The HTLsummit europe is organised by PKF hotelexperts as the year-end event of the HTLroundtable series at the Grand Hotel Vienna on Wednesday, 11 December 2019.

The event gives a comprehensive overview on key factors in all European regions influencing hotel development and performance, providing a platform to exchange views on the future of the hospitality, tourism & leisure sector. All attendees of the 2019 European HTLroundtables are invited to the summit free of charge (by personal invitation only).

The day programme of the HTLsummit europe will be followed by The Cooking Network at the Park Hyatt Vienna.

The Hospitality Gipfel Wien is jointly organised by PKF hotelexperts, CJN and hotelbau, taking place at the Park Hyatt Vienna on Thursday, 12 December 2019.

A full-day professional congress will feature handpicked speakers, including Norbert Kettner (Wien Tourismus), Dr. Daniel Thorniley (DT-Global Business Consulting, formerly The Economist Group), Michaela Reitterer (ÖHV), Michael Struck (Ruby Hotels) and Sascha Dimitriewicz (Wombat's).

The event offers its attendees presentations, networking opportunities as well as exciting live discussion on the following topics:
Boom or crisis? - economic outlook and suitable recipes for the hotel real estate market
Quantity or quality? - recipes for tourism growth
Luxury or lifestyle? - new concepts for city hotels and resorts
At the end of the event, an optional guided tour will be organised showcasing selected new hotels and restaurants in Vienna.
How to participate
The regular cost of participation in the Hospitality Gipfel Wien is €1,200.
Participants of the HTLsummit (by invitation only) can request a special rate.
Find the programme and book your Hospitality Gipfel Wien ticket here


Join us on 11 and 12 December 2019 at Grand Hotel and Park Hyatt in Vienna!


See more Latest News items