Latest News • 2023-08-30
Future of Hospitality Institute is launching "future living" research phase two starting mid-2024 and we kindly invite you to join us!
The "future living" project started in May 2022, spanning over a period of 24 months. The goal of the research project is to identify major changes and innovations which will be relevant for the future of the serviced living sector. Future of Hospitality Institute has brought together a diverse group of industry partners from seven countries in a collaborative environment to gain insight in order to assist them in applying cutting-edge know-how in their strategic planning. The aim being to define feasible living concepts based on applied research and shared experience.
"Future living" is the first research project of The Future of Hospitality Institute, a Vienna-based research organization, focusing on the fast-growing serviced living sector – including serviced apartments, aparthotels, student accommodation, senior & assisted living, co-living, micro living, and branded residences.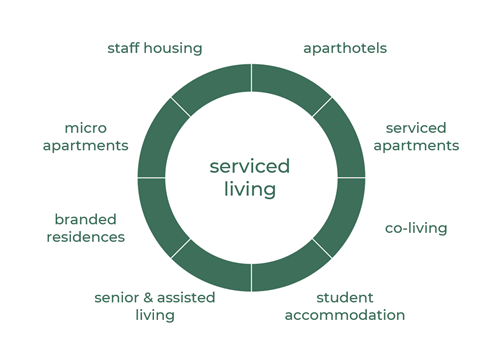 The Future of Hospitality Institute is a think tank for the hotel, living, tourism & leisure sectors. The research institute actively shapes the future and provides solutions primarily in the fields of guest experience, storytelling, architecture & design, digitalisation & technology and sustainability.
---
The mission of the Future of Hospitality Institute is to bring together a community of investors, developers, operators, architects, suppliers, and other stakeholders cooperating in identifying and developing future hospitality products. The Future of Hospitality Institute is based on four pillars: substantial research, practical innovation, thought-provoking events and networking opportunities.
Paul Rands MRICS, Managing Director of the Future of Hospitality Institute, says: "We are delighted to be leading this project, which has brought together such a fantastic and diverse group of actors involved in the hospitality sector. The aim was to create a collaborative environment where the participants felt comfortable in sharing experience and ideas, and the first year of the project has exceeded our expectations in this regard. We are looking forward to the remaining project meetings of phase one, where we will amongst other things analyse the findings of our bespoke research, conducted in London, Vienna and Barcelona this summer, with 3,000 respondents.. "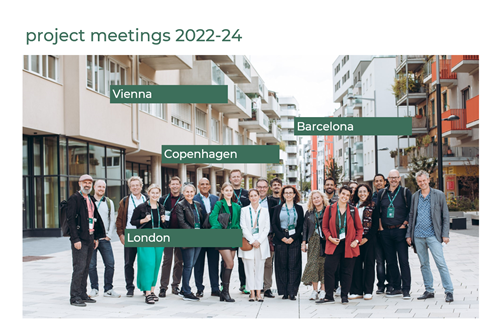 ---
The partners of the future living project enjoy the following benefits: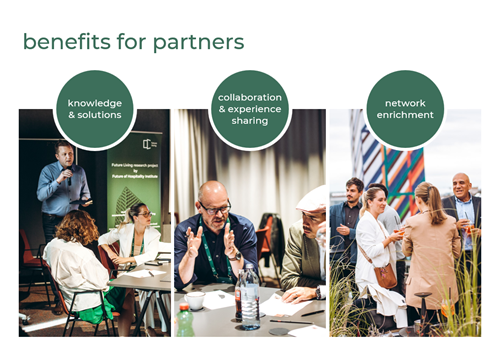 investors & developers
access to a leading-edge network of research institutes, universities, public authorities, suppliers and first mover serviced living operators in terms of innovation;
identification of strategic partners and formation of collaborations for the implementation of specific projects exchange and discussion of experiences and promising practices;
possibility to implement and test selected innovations;
gathering impulses for the development and implementation of innovative solutions.
operators
implementation of demo-projects as showcases on an international level;
strategic business development and positioning within the serviced living market;
strategic enhancement of own portfolio of products and services;
accessing the global serviced living market with a comprehensive and systemic approach
identification of synergies between serviced living and residential concepts
analysis of future target groups and their needs and wants
implementation of new technologies and sustainable elements aiming to decrease costs and enhance customer experiences.
suppliers & other stakeholders
access to technology and sustainability experts, consultants, research institutions and other private and public institutions;
immersive discussions with developers, investors and operators;
getting insights into key trends shaping future living;
formulating specific research topics which will enhance the know-how of the involved stakeholders.
---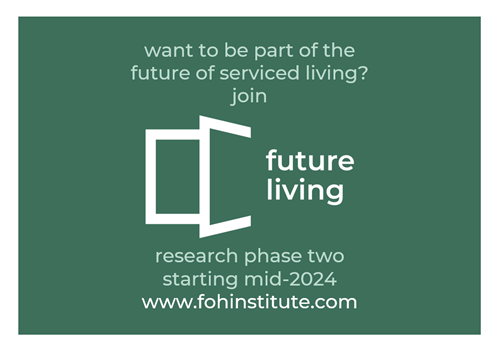 Contact us at futureliving@fohinstitute.com to discuss your involvement or the participation of your firm or organization.
Stay tuned, follow The Future of Hospitality Institute on Linkedin!
See more Latest News items