Results are out: "Hospitality Innovation Award 2019" and "Hotel Property Award 2019"
the hotel lounge, organised by PKF hotelexperts, for the fourth consecutive year, was again abuzz during this year's EXPO REAL, Europe's largest real estate and investment trade fair, held from 7 to 9 October 2019, at the Munich fairgrounds. The hotel lounge, by now a popular fixture at the fair, is a joint stand acting as the meeting point for hotel and hospitality professionals. Partners and guests were again welcomed with a cosy, lounge-like atmosphere and comprehensive food & beverage service - all as the right backdrop for effective networking and business meetings.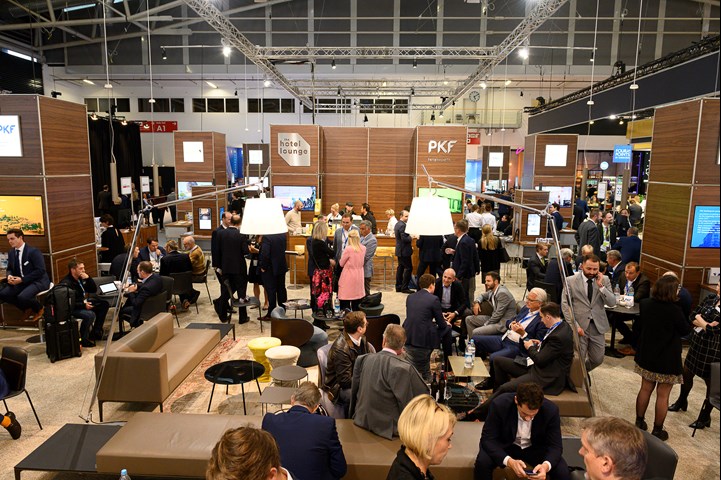 The hotel lounge continues to grow every year and in 2019 its all-star cast included:
AccorHotels
Adina Apartment Hotels
Althoff Hotels
arbor modul
Azimut Hotels
BWM Architekten und Partner ZT
Centro Hotel Group
GSK STOCKMANN Rechtsanwälte Steuerberater Partnerschaftsgesellschaft mbBH
H-Hotels
Highstreet Development
HighCon Highstreets & Consulting GmbH
HR Group
Hyatt Hotels Corporation
JOI-Design Innenarchitekten, Architekt, Designer joehnk+partner mbB
JW Immobilien-Kontor
moodley
NH Hotel Group
Novum Hospitality
Radisson Hotel Group
Schober Development
tristar
Wombat's The City Hostel
Wyndham Hotels & Resorts
Why not join the buzz in 2020 and benefit from this great platform? Please contact our team at events@pkfhotels.com for more details on our early booking and multiple-year discounts.
Following EXPO REAL, on Wednesday, 9 October 2019, the annual European hotel development conference hotelforum took place at the Hotel Bayerischer Hof in Munich. As in previous years, the event offered a mix of networking opportunities as well as a conference program focusing on recent changes in the industry. The highlight of the event was the closing gala dinner and the presentation of the winners of the Hotel Property Award and the Hospitality Innovation Award.
The interdisciplinary 19-member jury for the Hotel Property Award selected ten nominees, four from Germany and six from other European countries out of this year's 51 applications from 14 European countries.
The ten nominee hotels in alphabetical order included:
Andaz Vienna Am Belvedere (Vienna, Austria)
Hotel Indigo Milan – Corso Monforte (Milan, Italy)
InterContinental Lyon – Hôtel-Dieu (Lyon, France)
JAMS Music Hotel Munich (Munich, Germany)
Krønasår - The Museum-Hotel (Rust, Germany)

Lindley Lindenberg

(Frankfurt am Main, Germany)
Radisson Collection Hotel, Tsinandali Estate Georgia (Zinandali, Georgia)
Scandic Kødbyen (Copenhagen, Denmark)
Schgaguler Hotel (Castelrotto/Kastelruth, Italy)
Schulz Hotel Berlin Wall (Berlin, Germany)
The three finalists (in alphabetical order):
InterContinental Lyon – Hôtel-Dieu (Lyon, France)

Lindley Lindenberg

(Frankfurt am Main, Germany)
Schgaguler Hotel (Castelrotto/Kastelruth, Italy)
This year's "Hotel Property Award 2019" went to the Schgaguler Hotel in Castelrotto/Kastelruth, South Tyrol. Andreas Martin, Managing Director of hotelforum management GmbH, said: "On the one hand, this year's award winner has distinguished itself through its consistent stylistic implementation of the repositioning of an outdated apartment hotel concept by the architect Peter Pichler. At the same time, the Schgaguler family also succeeded in bringing about a change from the generation of the parents to their four children. Three of the children are responsible for the day-to-day running, whilst their eldest brother, who is a photographer, shares responsibility for the interior design of the hotel, and their parents continue to look after the holiday guests on a personal basis".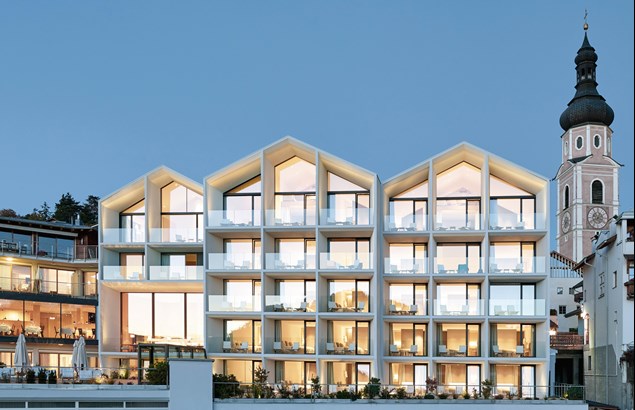 The Schgaguler Hotel in Castelrotto/Kastelruth. Image: Martin Schgaguler
Previous winners of the "Hotel Property Award":
QO Amsterdam (2018), Bretterbude Heiligenhafen (2017), Reichshof Hamburg CURIO Collection by Hilton (2016), Hotel Zoo Berlin (2015), Holzhotel Forsthofalm Leogang, Salzburger Land (2014), Radisson Blu Hotel Nantes (2013), Hotel TOPAZZ Vienna (2012), 25hours HafenCity Hamburg (2011), Roomers Frankfurt (2010), Lindner Park-Hotel Hagenbeck (2009), 25hours Frankfurt (2008), Schloss Elmau Luxury Spa & Cultural Hideaway (2007), Hotel Daniel Graz (2006), Colosseo Erlebnishotel Rust (2004), Rocco Forte Hotel Amigo Brussels and Accor Suite Hotel Hamburg (2003), Hilton Cologne (2002).
The Mayor of Vienna, Dr. Michael Ludwig received this year's "Hospitality Innovation Award". The award, presented by PKF hotelexperts since 2007, is in recognition of major achievements that have had a lasting impact on the international hotel industry, with a particular emphasis placed on social and societal commitment. Michael Widmann, Managing Director of PKF hotelexperts, said: "The theme of this year's hotelforum is the convergence of the residential and hotel worlds. There are more and more mixed forms that respond to modern living needs, such as smaller residential units, coupled with providing more services. This creates both opportunities and risks for cities – one example of this is serviced apartments.
Despite all the innovations, many large cities however currently face the same problem: The rents are no longer affordable for large numbers of normal earners. This problem also exists in Vienna – but to a lesser extent than in Munich, for example. The main reason for this is the policy of subsidised housing that has been consistently pursued for around 100 years. More than fifty percent of Vienna's tenants live in these homes. This helps create a well-balanced social structure in the city – especially since these homes are distributed relatively evenly across all of Vienna's districts. We are awarding this year's "Hospitality Innovation Award" to Vienna's Mayor Dr. Michael Ludwig for the consistent continuation of this policy – who thus also receives it on behalf of his predecessors in office and the entire city of Vienna."
| | |
| --- | --- |
| | |
Photos:The Hospitality Innovation Award was presented by PKF hotelexperts at the hotelforum gala evening held on 9 October, where it was accepted by Dipl.-Ing. Omar Al-Rawi, Member of the Viennese Landtag and Member of the Municipal Council of the City of Vienna.

Photographer: Walter Glück

To learn more please visit www.exporeal.net and www.hotelforum.org
See more Dernières Nouvelles items